Opening Day 2005, Honoring The 2004 Red Sox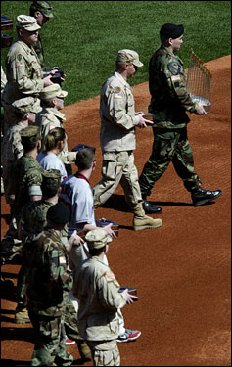 How was that for an opening day, Red Sox nation?! Yesterday's 8-1 win over the Yanks was almost lost on the classy pre-game ceremonies honoring the 2004 Red Sox championship team. If you couldn't afford baseball's most expensive ticket, then the next best seat was in front of your television watching the proceedings. And if you're a lifelong Red Sox fan, you even appreciated it more.
The festivities began with the Boston Symphony and the Boston Pops playing as each World Series banner was unfurled over the Green Monster and culminating in the unfurling of the 2004 World Series banner. Then in the most emotional moment of the day, from beneath the Green Monster, the real heroes, American Veterans from the Iraq War, made their way across the field carrying the rings to be presented to the players accompanied by Boston's own, James Taylor, performing "God Bless America". There was not a dry eye in the house!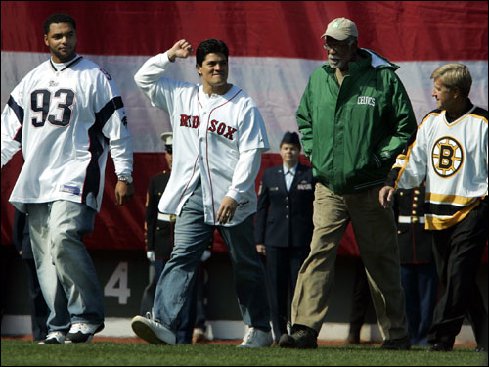 The players were brought up via their video on the Jumbotron, whereby they collected their rings. The most notable absence was Pedro Martinez. The most unexpected visitor with the largest ovation was ex-Sox, Dave Roberts. Derek Lowe also made the trip to a nice surprise ovation. Another kudo goes out to Yankee Manager, Joe Torre, who had his Yankees sit through the whole festivities and watch the whole proceedings. And when Sox Manager, Terry Francona, came out to collect his ring, he tipped his cap in respect to Yankee Manager, Joe Torre, who tipped his cap in respect...all so classy! Then some Red Sox old timers like Yaz, Fred Lynn, and Luis Tiant, heroes from my generation, came out and they all helped raise the 2004 Championship flag. Enough excitement for you yet? The old timers then surrounded the dugout as the Sox players were introduced after the Yankees were. By the way, how funny was it that Yankee closer, Mariano Rivera, who has blown 6 consecutive games to the Sox including the post-season , received a standing ovation from the Sox fans! And to his credit, after laughing, he tipped his cap to them. We then sat through a moment of silence for the Pope and the late ex-Sox reliever, Dick Radatz. And after the "Star Spangled Banner", we had the ceremonial First Pitches thrown by Boston greats from each sport like Bill Russell, Bobby Orr, and the Patriots Richard Seymour (not quite a legend yet) and Tedi Bruschi, who is recovering from his small stroke and looked great.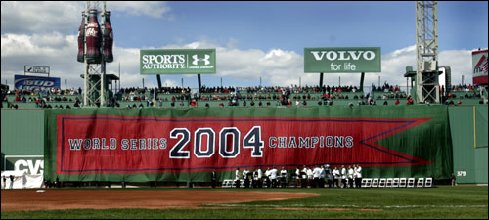 And on to the game. Did I mention there was a game in which the Sox beat the Yankees 8-1 behind Tim Wakefield? But for one day, the rivalry took a back seat to something more special: a day to remember the 2004 Red Sox Championship Season one last time.