The Assassination of Richard Nixon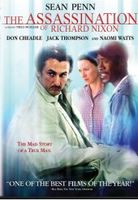 This little chestnut flew under the radar screen when it was released in 2004.
It stars the terrific Sean Penn as a disillusioned man living in President Nixon's 1973-74 America. It's the story of a man who is trying to get his life back together, but fails due to the system. This is "based" on a true story and watching Sean Penn's pain is an intimate study in human emotion and the mental decline of an individual. It is very compelling and I highly recommend it.